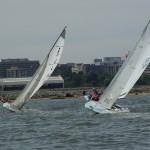 As of winter 2017, there are six Inland 20 scows at the Washington Sailing Marina. It is fair to say that ours is a "vintage" fleet with no boat younger than 18 years and several aged 30+.
The Inland 20 is a great boat for dinghy racing. With up to 28 control lines and bilgeboards that are manipulated on every tack, this boat can be exhilarating and humbling. Sailors are rewarded with speeds in excess of 15 knots as befitting one of the lowest Portsmouth ratings of any two-person sloop (except the foiled skiffs.) Best of all…used scows can be found for as little as $500 with sails and trailer.
We race with each other during the regular Potomac River Sailboat Association series in the spring and fall. PRSA is a great organization and they have been terrifically welcoming as the fleet has taken hold.
If you are interested in hitching a ride in a scow, or maybe even buying one, leave a message below.
The fleet includes: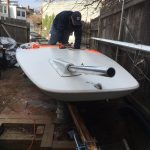 "Scooty Puff is a 1987 Johnson that was obtained from a lake in Oklahoma for just $500. This beautiful boat was lightly used and bears few scratches or dings. It was converted in the winter of 2017 by skipper Jack Sheehan and the conversion team at Scowsailing.com. Jack has been racing I20s for two years and is expected to give a lot of the skippers a real run for their money! The name "Scooty Puff" is nod to the cult animation classic Futurama.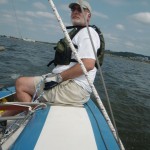 "Barnstormer" is a 1974 Melges M20 converted in 2014 by Scowsailing.com to carry the asymmetrical spinnaker that distinguishes the Inland 20. This boat is a timepiece and sat unused in a Wisconsin barn for at least 20 years. Skipper Carl Schaefer is tuning Barnstormer to get the maximum performance from its original Proctor spar, a beautiful, supple mast that the afficionados consider best in class. The boat, trailer and sails were acquired from Wisconsin for $500.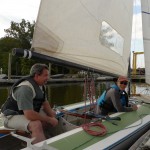 "Avocado" is a 1977 Melges M20 converted in 2012 to the Inland 20 specifications. Skipper Rob Gosselink has generously shared his boat with a number of other drivers, including Tripp Hook and Carl Schaefer. The boat has a stunning white, green and blue color scheme. It has several competitive advantages including a windward sheeting traveler and spinnaker wells on both sides of the mast. This boat is routinely in the hunt at the races. The hull and spar were purchased from a Wisconsin lake for $1000.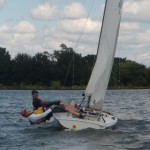 The 1996 OSP, as yet unnamed, is our most modern hull. It was converted in 2008 by Windward Boatworks. A carbon fiber mast was installed at that time. The hull is from laminated around a Corecell core, making it one of the stiffest on the water. Skipper Tim Dickson races with family crew. As good as Tim is, watch out for his son Mac Dickson. A red-hot college racer, Mac is a demon in the pins and one of the best drivers on the river. The OSP was acquired from Slippery Rock, Pennsylvania.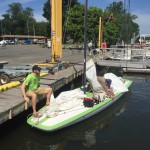 Will Fenn is leading a syndicate of Inland 20 sailors who are tuning up a completely re-cored and renovated 1975 Melges called Altair. Conversion was done with assistance of the composites team at Scowsailing.com. Will grew up sailing scows in the Adirondacks and is a fierce competitor. Will and his syndicate are planning to take their boat to races up and down the Potomac.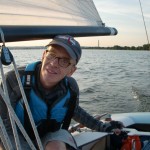 "Uff-Da!" was made by Johnson Boat Works in White Bear, Minnesota way back in 1983. This is a stiff boat with Corecell laminate and lots of tweaks to running rigging. It carries a Melges spar and was converted to an Inland 20 by Windward Boatworks in Wisconsin back in 2009. Stew Harris brought the boat to the Potomac in 2010 and has been offering rides and promoting the class every since. You can see Uff-Da! at the PRSA races almost every weekend.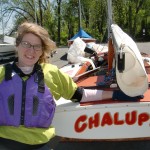 "Chalupa" is a 16-foot M Scow made by Johnson Boat Works in 1974. The M Scow is considered "The People's Scow" because it was so much less expensive when built, and still enjoys popularity in the Midwest and southern New Jersey, where they are regularly raced as a "club boat." This particular boat has been upgraded repeatedly and is now in prime racing form. It is a lot of fun in a blow; it can feel as though the boat is skipping across the chop. In fact, that is what the 450 lbs. racing scow does. Without at spinnaker, the M Scow is easily handled by an adult and child. Skipper Karen Currie has refused many requests to sell "her boat." So…don't ask.