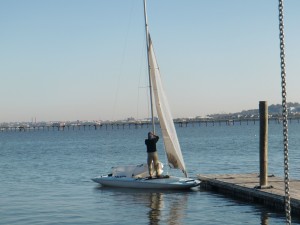 Scowsailing.com was built to invigorate scow sailing on the east coast, and especially around Washington DC. The I20 fleet at Washington Sailing Marina is in full swing, with four competitive boats in 2014, and more coming. The skippers of the I20s are all members of the Potomac River Sailboat Association.
The I-20 scow was first introduced at the Washington Sailing Marina in 2009 with the arrival of a modified M-20 built in 1983 by Johnson Boat Works. The I-20 is the most recent scow class, adapted from the tunnel-hulled M-20 scow designed in 1963 by Harry and Buddy Melges. The I-20 adds a massive asymmetrical spinnaker, tacked to a retractable bowsprit. The boat is a handful for two adults, but it rewards sailors with speeds in excess of 15 knots.
There is also an The M-16 scow at Washington Sailing MArina. This an entry level racing sloop enjoys popularity in the Midwest and on the southern shores of New Jersey, where fleets of these boats still compete. This boat is great for two adults or an adult and younger person. This particular M-16 was built in 1974 at White Bear Lake, Minnesota by the Johnson Boat Works, founded 100 years ago by the inventor of the racing scow. It was sailed in the Finger Lakes before it was brought to the Potomac.
Scows are meant to be sailed heeled up, to reduce the drag across the wide, flat bottom. Heeling will also help the square bow punch through chop. The bilgeboards and twin rudders on a scow are angled outward at about 17 degrees, so that a heel of 12 to 20 degrees will contribute to a dynamic harmony that is hard to replicate in boats with centerboards. Because of its relatively flat bottom, the scow running downwind quickly overtakes the bow wave and really scoots. Planing is also common on a reach and can be achieved heading into the wind.