Our friends Ed and Georgette met us at the Washington Sailing Marina bright and early to learn the ropes on the M16 and try their hand at tacking and gybing.
Even at 9am when we wheeled the boat to the lift, it was feeling balmy with temps on their way to a high of 58F. March 5 is still winter, but you would never know it.  A soft 4-8 knot southerly rippled the water with promise.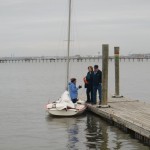 Georgette was first in the boat.  She trimmed jib as we swished the stern back and forth across the wind and into the estuary just off the docks.  We swung around and did some tacks next. This time, Georgette took the tiller and started to learn how to point the boat close to the wind.  Several excellent tacks got us back to the dock.  Ed insisted Georgette keep up the instruction, so we took off again, this time Georgette gybed the boat and got a feel for how the boom swings with the wind astern.  Tricky trying to manage that boom and not over steer the tiller, but she got the hang of it.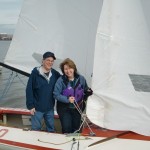 The wind started to pick up so we were both able to hike on the windward side.  An hour or two goes by pretty fast on a sailboat.   We bid Ed and Georgette good day and congratulated them on their first trip in a scow.
The boat is sailing well with a few needed revisions.  The traveler is very tough to manipulate when the main is  loaded up.  Maybe the blocks are just not running smoothly, but it's also likely we need more purchase below the deck.  This should be easy to rig.
I have been looking for ways to streamline control lines like the cunningham and boom vang.  I  think we might be able to run these lines through the spine to  cleats on the deck between the trimmer and and driver.
We need some other adjustments, too.  Karen and I took the boat out on the open river where we shook hands with whitecaps and  10-to-15 knot winds.  Something was holding down the boat speed.  Maybe it is the rough finish of the bilgeboards.  But I also think we should consider a way to rig barberhaulers to open the slot.  Without a jib traveler on the M16, there is no way to open the distance between the jib and main when the wind starts to howl. This can create an aerodynamic bottle neck.
I do like the new adjustments on the hiking straps. And, best of all, the bilgeboards are swinging really well after all the work this winter.   This beautiful little boat is getting there!