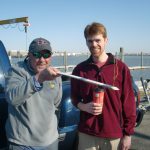 The 2017 spring race series got off to a bang Sunday, April 2 with the Potomac River Inland 20 fleet handling race committee.
Scow dudes Tim Dickson Stew Harris, Rick Loheed and Jack Sheehan planted pins and launched the boats all day long in a NW breeze that start briskly around 7 knots but fizzled by the third race.
More tha 20 boats joined this race day with Multihull, Lightning, Albacore and Buccaneer classes represented.
Tim provide much needed guidance when we decided to shorten the course in Race 3 so everyone could get back to shore. Rock Loheed, a commercial skipper, showed his stuff at the helm of the Race Committee boat. And Jack Sheehan planted pins from his spot on the crash boat with Tim.
Water temps were still around 47F, so we required PFD for all sailors. As usual for Potomac River Sailing Association, a barbecue afterward was devoured by the hungry racers.
The Potomac Inland 20 fleet gave away two symmetrical spinnakers after the race. The Inland 20 uses an asymmetrical spinnaker after it is converted from its predecessor, the M20 scow. The pre-conversion M20s often come with symmetrical spinnakers, so we have a few of the laying about. Lisa MArie Lane got one of the symmetrical spinnaker, which was purple and pink. The bright colors made Lisa very. very happy.