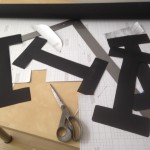 Who has the best price on the hard-to-find Inland 20 insignia?  It's a trick question because they are not for sale anywhere.  You have to make one yourself.  Thanks to Willie Crear for helping with the following:I am sure there is more than one way to skin this cat.  Here's my approach:  I bought a yard of vinyl sail number material from www.sailrite.com for about $18.  This is the  stuff with the adhesive the back.  I traced an "I" off the sail I bought new for too much money from North Sails three years ago.  Then, I traced the outline on the back of the sail number material and, snip-snip, had an insignia.  Per Willie, I rounded the corners of the number so they would not be so quick to blow off.
What else…oh yeah, the Inland20 scantling has a dimension for this bad boy: " The Inland-20 insignia shall be the letter I (15" high) and 20 (6.25" high). The number shall be centered beneath the I. The insignia shall be located just below the top batten."
You might be asking, "why not have North install the insignia when you order your sail?"  That would be smart except that I am refurbishing an old M20 main.  That means the "20" still works.  But that "M" needs to go.    Of course, cleaning the sail of all that gall-danged adhesive from that old "M" is another thing entirely.  If you have suggestions, I'm listening!