The 28-foot E scow is big cousin to the I-20, with half again as much sail and hull.  At 1000 lbs., E scows might take longer to accelerate, but their top speed upwind is magnificent.  Some say the I-20 is just as quick downwind with the chute filled, but I would not be looking for this drag race after what I saw during a weekend flying the aspin on an E scow known as "E-ruption" during the New York State championships at Lake Chautauqua, New York.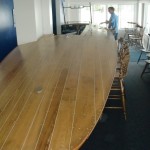 I had not been on an E scow since I was a kid growing up about 10 miles from Johnson Boat Works at White Bear Lake MN.  Back then, these speed monsters  looked like very long surfboards outfitted with impossibly high masts.    The running back stays of those days are gone, replaced by conventional side stays, but the Chautauqua Yacht Club had a life-size reminder of the boats that were built near my home.  Just climb the stairs to the second floor banquet room and you cannot miss it: sawed lengthwise, fitted with sink and plumbing, sits a bar fashioned from an old wooden E scow.  The white cedar decking has been meticulously waxed and polished smooth, not for hull speed, but for quickly scooting beer mugs down her length.  Looking closer, the boat's origins showed themselves to me: the aluminum castings on the tiller were from the famous Johnson Boatworks.  Imagine that.  Here, in upstate New York, was a  bookmark stuck in a page from my childhood.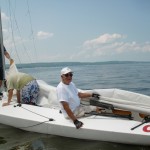 And not just one. The sailor who invited me to crew at the championship regatta was crew himself to a long-time scow man: Dick Turner.  Dick turned 86 not long before our race, and he was on the water every day that weekend, driving the boat and pushing his crew.  During the banquet Saturday night, I got to ask some questions of this local legend.
When did he first sail an E Scow?  That would have been 1946, Dick remembered.  It was not his E Scow, but he would fix that soon enough.  His first purchase came a few years later.  The wooden boat arrived from Johnson Boatworks, crated and carried in a railroad boxcar.  Dick was smiling now as he remembered and took  bites of a spicy fish taco.  He mentions that he had to get a new scow almost every three or four years.  That was how long the hulls lasted before water logging started to slow them down.  He was beaming at the memories of the decades in these boats.  Then the discussion turned to skiing, which he enjoys to this day.  Dick…we cannot wait to see you next year!
[album: http://scowsailing.com/wp-content/plugins/dm-albums/dm-albums.php?currdir=/wp-content/uploads/dm-albums/New York State Championship/]whose t