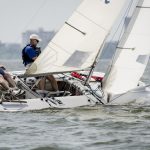 This beauty is a proven competitor with multiple outings including a strong showing at the 2017 Cherry Blossom. Known as "Firewater," when she sailed in Lake James, Indiana, this boat had two owners and both were meticulous. At only 579lbs. (class weight is 595), Firewater is a nimble competitor. This boat became available for purchase April 2019.
Leave a comment below if you are interested.
This boat is tuned for racing with the following expensive features:
spinnaker sheet ratchets allow for smaller lines
windward sheeting main car
anodized boards and rudders
nearly new UK sails and decent backup set by North
great trailer with new tires, ready for regatta travel
3/4 inch core-X foam is thicker and stiffer than the usual 1/2 Johnson core
Typical meticulous Johnson build quality
Did we say its only 579 pre-conversion pounds?
Harken full deck boat cover
Conversion is done and this boat comes with decent asymmetrical spinnaker.