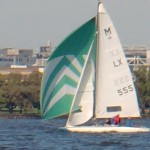 Credits for this boat reconstruction project are due  and I need to start where it all started, with Larry Gonyea from Wisconsin, who sold us this 1977 Melges for $1000 with trailer.  This photo was from the boat's first a-spin hoist in front of the War College on a gybe up the Potomac.  Larry asked us to post a photo…so here it is.  Great boat, Larry!  Thank you.
Thank you also goes to our technical advisor, Eric Hall of Lake Chautauqua, NY for installing the carbon bowsprit.  It works!  Eric never seemed to doubt the outcome and never tires of talking scows during his lunch hour.  We also owe a "high five" to Linda of Metropolitan Police Department, who helped us to get this boat titled.   And, we owe Bill Davenport, who gave us some of the fiberglass mat we used under the decks and many of the tools we could not afford to buy ourselves.  I know Bill is still shaking his head at our crimping technique!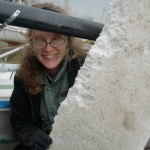 Thanks to Rob, who had a lot of faith this boat would float, sail and maybe even fly.  He now owns this 1977 Melges and I cannot wait to see him fill it with friends.
And most of all…thank you Karen for making so many trips to
the Marina with me to sand, glass, install, uninstall, polish and, let's not forget, go under the deck to remove the crusty old flotation.  Wow…you are amazing.  Are we ready for the next project?