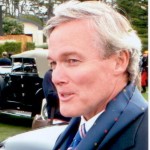 A national champion scow sailor comes to the Washington Sailing Marina Nov. 10-11 to teach  basics and finer points of making our boats go faster.   Kevin Caulfield has won national championships in the I20 scow and its precursor, the M20 scow.
Meteorologists are calling for 60 degrees, partly cloudy skies and mild southern winds Saturday and Sunday.
Caulfield currently skippers A scows, the 38-foot speed monsters that can top 30+ knots. He is planning to share his knowledge over two days of sailing at Daingerfield Island/Washington Sailing Marina and will be staying with scow sailors on Capitol Hill with lots of opportunity for chalkboard talks.
This event is free to anyone who wishes to learn about scows, including the sailors of Potomac River Sailboat Association and the Daingerfield Island Sailing Club.
The clinic begins 10am Saturday and Sunday with shore lunches both days at 1pm.  Afternoon sailing will continue as long as weather permits.  Rain cancels.
We are looking for two-way radios so the Kevin can stay in touch with the boats and provide guidance while underway.
As an additional enticement, sailors from the Chautauqua yacht club will be splashing a 28-foot escow.  This four person boat is capable of speeds in excess of 25 knts and will be looking for crew.  The Chautauqua contingent is courtesy of I20 boat builder Eric Hall.  In addition, there will be two I20s and an M16 scow.
For more info, leave a question below and we will answer it in line.  Hope you can join!  Stew