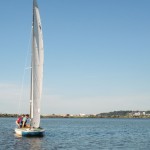 There are two places to race your dinghy on Wednesday evenings this summer:  Sailing Club of Washington competes their Flying Scots and gamely allowed the scows to mix in for racing in the lagoon.  First race is 5:30.
Also possible to join the Albacores and Buccaneers which race  around channel markers further down river. This is Potomac River Sailing Association's contribution to the Wednesday racing scene.   Racing starts 6pm.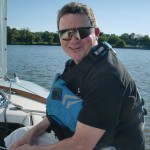 On June 24 we had two Inland 20s in the river:  Barry and Stew in Uffdah and Tripp and Julian in Avocado.  With low low tide, everyone was hitting mud.   The mud ruined Uffdah's our efforts to mix in the PRSA.  We saw Tripp almost run aground in the mud flat near the runway.  Yikes the water was low.  But in two scow races Uffdah managed a second and first.  Nor really a fair matchup against Flying Scots, so we tried to start at the back of the pack.